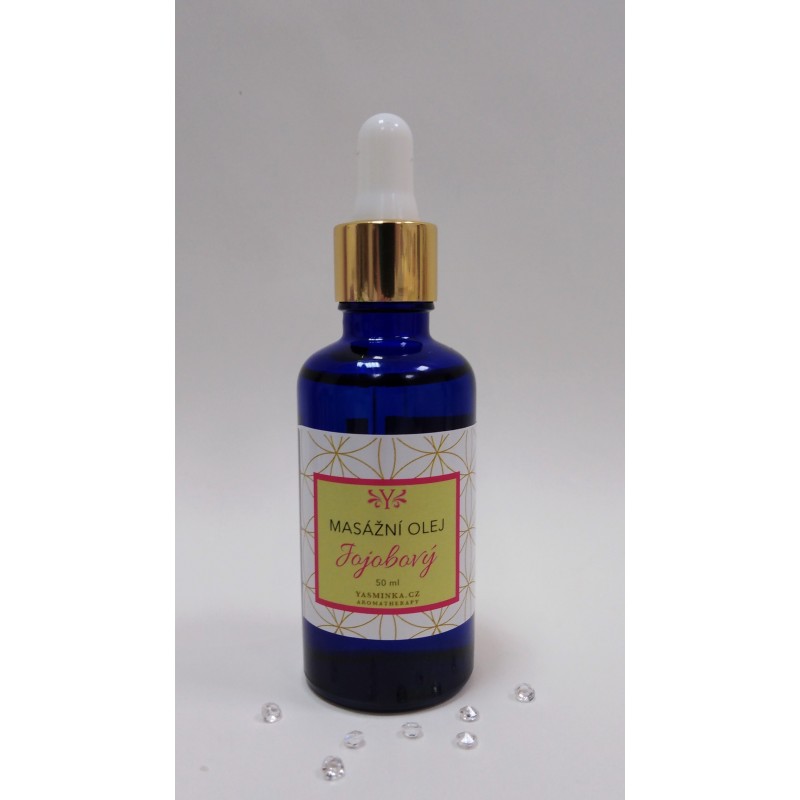  
Jojoba body and massage oil, 50ml
Dostupnost sklad*:
ANO
* Produkty jsou čistě přírodní a jejich dostupnost je tedy omezena na sezónu bylin
Purely natural oil which comes from Tunisia and Morocco. It is designed for common daily use for normal skin but also for supportive care of many skin problems - acne, eczema, psoriasis, dandruff, dry skin, cracked skin, frostbite, split ends, wrinkles, and stretch marks.

It is convenient for all types of skin, even for the sensitive one.
It is helpful for mild skin problems - acne, dandruff, eczema.
It has regenerative effects and it is traditionally used as a protection for the skin.
Data sheet
Země původu

Tunisia

Ingredients (INCI)

Vitis Vinifera Seed Oil, Sommondsia Chinensis Seed Oil, Lauric Acid, Myristic Acid, Stearic Acid, Palmitic Acid

Použití

Rozetřete malé množství masážního tělového oleje na vaši pokožku lehkým masážním pohybem.

TIP 1

odborná literatura doporučuje jojobový olej pro běžné denní použití pro normální pleť ale i pro podpůrnou péči mnoha kožních problémů - akné, ekzémů, lupénky, lupů, na suchou pokožku, popraskanou pokožku, omrzliny, roztřepené konečky vlasů, vrásky, strie

TIP 2

olej z jojoby je všestraně použitelný, velmi dobře vstřebatelný rostlinný olej. Je vhodný pro ochranu pleti za slunečného i mrazivého počasí, chrání ji před vysoušením

TIP 3

Vlasy TIP: chrání vlasy proti třepení

TIP 5

působí blahodárně při výskytu ekzémů, lupů, lupénky a na rozpraskanou pokožku

TIP 4

Pleť:mírní nadbytečnou produkci kožního mazu a obsahuje protizánětlivé složky, proto je výborný na akné
Ostatní produkty v kategorii